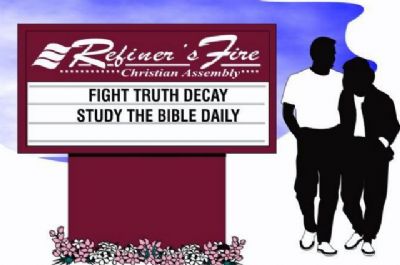 Upcoming Events ...
Free Family Friendly Movie Night has been canceled this month!
We intend to resume in the fall!
All our movies have been EDITED to be "Family Friendly!"
All our Family Movie Nights include:
Free admission, Free popcorn & Free drinks!
With no strings attached!
Children's Movies are included.
For more info click on "Family Fun Night" webpage located on the left hand side of this homepage!
Dr. Byron W. Jones, Senior Pastor
3915 Highway 72-221 East
Greenwood, South Carolina 29649
Woodmen of the World Building
(Laurens Highway near Lake Greenwood)
Office Phone: (864) 223-2344
Click Link for Driving Directions:
Approximately 1 mile, on left past Intersection of Highway 246 and Highway 72-221 East
as you are heading north toward Lake Greenwood
Church Office & Mailing Address:
Refiner's Fire Christian Assembly
509 Colonial Drive
Greenwood, SC 29649
Phone: (864) 223-2344
The Spirit of the Lord is up on me, because he hath anointed me to preach the gospel to the poor; he hath sent me to heal the brokenhearted, to preach deliverance to the captives, and recovering of sight to the blind, to set at liberty them that are bruised, to preach the acceptable year of the Lord.
Luke 4:18 & 19"
Refiner's Fire Christian Assembly is:
"Casual, Caring and Community Conscious"
"On-Fire Contemporary Praise & Worship"
"Anointed, Relevant Preaching"
"Non "Denominational"
"Outreach Focused"
"Multi-Cultural"
These are a few statements that describe the atmosphere of our church.
Our Vision Statement:
"Making Disciples and equipping those Disciples to fulfill God's eternal plan for their lives."
Refiner's Fire Christian Assembly has been sent to Greenwood, South Carolina by:
Redemption World Outreach Center
Under the Leadership of
Ron Carpenter, Jr., Senior Pastor
and
Redemption Ministerial Fellowship, Intl.
Under the Leadership of
Dr. Paul Gaehring, President
Redemption World Outreach Center
74 Byrdland Drive
Greenville, SC 29607
(864) 281-1520
WLOS: TV 13
Proverbs 13:22 A good man leaves an inheritance to his children's children, But the wealth of the sinner is stored up for the righteous.