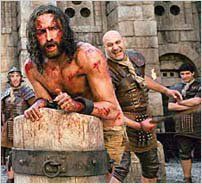 But he was wounded for our transgressions, he was bruised for our iniquities: the chastisement of our peace was upon him; and with his stripes we are healed. - Isaiah 53:5
Click on this link to hear Bishop Tony Miller's Healing CD!
....it will be well worth your time ... I promise!
Use the Scriptures listed below as daily confessions, then walk in Divine Health!
Healing Scriptures
All Scriptures are in the King James Translation unless otherwise noted.
Psalm 118:17
I shall not die, but live, and declare the works of the LORD.
Exodus 15:25-26
25. And he cried unto the LORD; and the LORD shewed him a tree, which
when he had cast into the waters, the waters were made sweet: there he
made for them a statute and an ordinance, and there he proved them,
26. And said, If thou wilt diligently hearken to the voice of the LORD
thy God, and wilt do that which is right in his sight, and wilt give ear to
his commandments, and keep all his statutes, I will put none of these
diseases upon thee, which I have brought upon the Egyptians: for I
am the LORD that healeth thee.
Exodus 23:25-26
25. And ye shall serve the LORD your God, and he shall bless thy bread,
and thy water; and I will take sickness away from the midst of thee.
26. There shall nothing cast their young, nor be barren, in thy land: the
number of thy days I will fulfil.
Deuteronomy 7:15
And the LORD will take away from thee all sickness, and will put none of
the evil diseases of Egypt, which thou knowest, upon thee; but will lay
them upon all them that hate thee.
Deuteronomy 30:19-20
19. I call heaven and earth to record this day against you, that I have set
before you life and death, blessing and cursing: therefore choose life, that
both thou and thy seed may live: 20. That thou mayest love the LORD
thy God, and that thou mayest obey his voice, and that thou mayest
cleave unto him: for he is thy life, and the length of thy days: that thou
mayest dwell in the land which the LORD sware unto thy fathers, to
Abraham, to Isaac, and to Jacob, to give them.
Joshua 21:45
There failed not ought of any good thing which the LORD had spoken
unto the house of Israel; all came to pass.
Psalm 30:2
O LORD my God, I cried unto thee, and thou hast healed me.
Psalm 42:11
Why art thou cast down, O my soul? and why art thou disquieted within
me? Hope thou in God: for I shall yet praise him, who is the health of my
countenance, and my God.
Psalm 91:1-6,10
1. He that dwelleth in the secret place of the most High shall abide under
the shadow of the Almighty. 2. I will say of the LORD, He is my refuge and
my fortress: my God; in him will I trust. 3. Surely he shall deliver thee from
the snare of the fowler, and from the noisome pestilence. 4. He shall cover
thee with his feathers, and under his wings shalt thou trust: his truth shall
be thy shield and buckler. 5. Thou shalt not be afraid for the terror by night;
nor for the arrow that flieth by day; 6. Nor for the pestilence that walketh in
darkness; nor for the destruction that wasteth at noonday. 10. There shall
no evil befall thee, neither shall any plague come nigh thy dwelling.
Psalm 91:16
With long life will I satisfy him, and shew him my salvation.
Psalm 103:1-5
1. Bless the LORD, O my soul: and all that is within me, bless his holy
name. 2. Bless the LORD, O my soul, and forget not all his benefits:
3. Who forgiveth all thine iniquities; who healeth all thy diseases;
4. Who redeemeth thy life from destruction; who crowneth thee with
lovingkindness and tender mercies; 5. Who satisfieth thy mouth with
good things; so that thy youth is renewed like the eagle's.
Psalm 107:20
He sent his word, and healed them, and delivered them from their
destructions.
Psalm 118:17
I shall not die, but live, and declare the works of the LORD.
Proverbs 4:20-23
20. My son, attend to my words; incline thine ear unto my sayings.
21. Let them not depart from thine eyes; keep them in the midst of
thine heart. 22. For they are life unto those that find them, and health
to all their flesh. 23. Keep thy heart with all diligence; for out of it are
the issues of life.
Proverbs 12:18
There is that speaketh like the piercings of a sword: but the tongue of
the wise is health.
Proverbs 17:22
A merry heart doeth good like a medicine: but a broken spirit drieth the
bones.
Isaiah 41:10
"Fear thou not; for I am with thee: be not dismayed; for I am thy God:
I will strengthen thee; yea, I will help thee; yea, I will uphold thee with
the right hand of my righteousness."
Isaiah 43:25-26
25. I, even I, am he that blotteth out thy transgressions for mine own
sake, and will not remember thy sins. 26. Put me in remembrance: let us
plead together: declare thou, that thou mayest be justified.
Isaiah 53:3-5
3. He is despised and rejected of men; a man of sorrows, and acquainted
with grief: and we hid as it were our faces from him; he was despised, and
we esteemed him not. 4. Surely he hath borne our griefs, and carried our
sorrows: yet we did esteem him stricken, smitten of God, and afflicted.
5. But he was wounded for our transgressions, he was bruised for our
iniquities: the chastisement of our peace was upon him; and with his
stripes we are healed.
Isaiah 55:9-11
9. For as the heavens are higher than the earth, so are my ways higher
than your ways, and my thoughts than your thoughts. 10. For as the rain
cometh down, and the snow from heaven, and returneth not thither, but
watereth the earth, and maketh it bring forth and bud, that it may give seed
to the sower, and bread to the eater: 11. So shall my word be that goeth forth
out of my mouth: it shall not return unto me void, but it shall accomplish
that which I please, and it shall prosper in the thing whereto I sent it.
Isaiah 58:6-11
6. Is not this the fast that I have chosen? to loose the bands of
wickedness, to undo the heavy burdens, and to let the oppressed go
free, and that ye break every yoke? 7. Is it not to deal thy bread to the
hungry, and that thou bring the poor that are cast out to thy house?
when thou seest the naked, that thou cover him; and that thou hide
not thyself from thine own flesh? 8. Then shall thy light break forth
as the morning, and thine health shall spring forth speedily: and thy
righteousness shall go before thee; the glory of the LORD shall be thy
rereward. 9. Then shalt thou call, and the LORD shall answer; thou
shalt cry, and he shall say, Here I am. If thou take away from the midst
of thee the yoke, the putting forth of the finger, and speaking vanity;
10. And if thou draw out thy soul to the hungry, and satisfy the afflicted
soul; then shall thy light rise in obscurity, and thy darkness be as the
noonday: 11. And the LORD shall guide thee continually, and satisfy
thy soul in drought, and make fat thy bones: and thou shalt be like a
watered garden, and like a spring of water, whose waters fail not.
Jeremiah 1:12
Then said the LORD unto me, Thou hast well seen: for I will hasten my
word to perform it.
Jeremiah 30:17
For I will restore health unto thee, and I will heal thee of thy wounds,
saith the LORD; because they called thee an Outcast, saying, This
is Zion, whom no man seeketh after.
Joel 3:10
Beat your plowshares into swords, and your pruning hooks into spears:
let the weak say, I am strong.
Nahum 1:9
What do ye imagine against the LORD? he will make an utter end:
affliction shall not rise up the second time.
Malachi 3:6
For I am the LORD, I change not; therefore ye sons of Jacob are not
consumed.
Malachi 3:10-12
10. Bring ye all the tithes into the storehouse, that there may be meat in
mine house, and prove me now herewith, saith the LORD of hosts, if I will
not open you the windows of heaven, and pour you out a blessing, that
there shall not be room enough to receive it. 11. And I will rebuke the
devourer for your sakes, and he shall not destroy the fruits of your
ground; neither shall your vine cast her fruit before the time in the field,
saith the LORD of hosts. 12. And all nations shall call you blessed: for
ye shall be a delightsome land, saith the LORD of hosts.
Malachi 4:2-3
2. But unto you that fear my name shall the Sun of righteousness arise
with healing in his wings; and ye shall go forth, and grow up as calves
of the stall. 3. And ye shall tread down the wicked; for they shall be
ashes under the soles of your feet in the day that I shall do this, saith
the LORD of hosts.
Matthew 7:7-11
7. Ask, and it shall be given you; seek, and ye shall find; knock, and it
shall be opened unto you:8. For every one that asketh receiveth; and he
that seeketh findeth; and to him that knocketh it shall be opened. 9. Or
what man is there of you, whom if his son ask bread, will he give him a
stone? 10. Or if he ask a fish, will he give him a serpent? 11. If ye then,
being evil, know how to give good gifts unto your children, how much
more shall your Father which is in heaven give good things to them that
ask him?
Matthew 8:2-3
2. And, behold, there came a leper and worshipped him, saying, Lord, if
thou wilt, thou canst make me clean. 3. And Jesus put forth his hand, and
touched him, saying, I will; be thou clean. And immediately his leprosy
was cleansed.
Matthew 8:16-20
16. When the even was come, they brought unto him many that were
possessed with devils: and he cast out the spirits with his word, and
healed all that were sick: 17. That it might be fulfilled which was spoken
by Esaias the prophet, saying, Himself took our infirmities, and bare
our sicknesses.
Matthew 9:35
And Jesus went about all the cities and villages, teaching in their
synagogues, and preaching the gospel of the kingdom, and healing
every sickness and every disease among the people.
Matthew 15:30-31
30. And great multitudes came unto him, having with them those that
were lame, blind, dumb, maimed, and many others, and cast them down
at Jesus' feet; and he healed them: 31. Insomuch that the multitude
wondered, when they saw the dumb to speak, the maimed to be whole,
the lame to walk, and the blind to see: and they glorified the God of Israel.
Matthew 18:18-20
18. Verily I say unto you, Whatsoever ye shall bind on earth shall be
bound in heaven: and whatsoever ye shall loose on earth shall be loosed
in heaven. 19. Again I say unto you, That if two of you shall agree
on earth as touching any thing that they shall ask, it shall be done
for them of my Father which is in heaven. 20. For where two or three
are gathered together in my name, there am I in the midst of them.
Mark 5:25-34
25. And a certain woman, which had an issue of blood twelve years,
26. And had suffered many things of many physicians, and had spent
all that she had, and was nothing bettered, but rather grew worse,
27. When she had heard of Jesus, came in the press behind, and
touched his garment. 28. For she said, If I may touch but his clothes,
I shall be whole. 29. And straightway the fountain of her blood was
dried up; and she felt in her body that she was healed of that plague.
30. And Jesus, immediately knowing in himself that virtue had gone
out of him, turned him about in the press, and said, Who touched my
clothes? 31. And his disciples said unto him, Thou seest the multitude
thronging thee, and sayest thou, Who touched me? 32. And he looked
round about to see her that had done this thing. 33. But the woman fearing
and trembling, knowing what was done in her, came and fell down before
him, and told him all the truth. 34. And he said unto her, Daughter, thy
faith hath made thee whole; go in peace, and be whole of thy plague.
Mark 11:22-24
22. And Jesus answering saith unto them, Have faith in God. 23. For
verily I say unto you, That whosoever shall say unto this mountain, Be
thou removed, and be thou cast into the sea; and shall not doubt in his
heart, but shall believe that those things which he saith shall come to
pass; he shall have whatsoever he saith. 24. Therefore I say unto you,
What things soever ye desire, when ye pray, believe that ye receive
them, and ye shall have them.
Mark 16:17-18
17. And these signs shall follow them that believe; In my name shall they
cast out devils; they shall speak with new tongues; 18. They shall take up
serpents; and if they drink any deadly thing, it shall not hurt them; they
shall lay hands on the sick, and they shall recover.
Luke 4:17-19
17. And there was delivered unto him the book of the prophet Esaias. And
when he had opened the book, he found the place where it was written,
18. The Spirit of the Lord is upon me, because he hath anointed me to preach
the gospel to the poor; he hath sent me to heal the brokenhearted, to preach
deliverance to the captives, and recovering of sight to the blind, to set at
liberty them that are bruised, 19. To preach the acceptable year of the Lord.
Luke 9:1-2
1. Then he called his twelve disciples together, and gave them power
and authority over all devils, and to cure diseases.2. And he sent
them to preach the kingdom of God, and to heal the sick.
Luke 10:8-9
8. And into whatsoever city ye enter, and they receive you, eat such
things as are set before you: 9. And heal the sick that are therein, and
say unto them, The kingdom of God is come nigh unto you.
Luke 13:11, 13, 16
11. And, behold, there was a woman which had a spirit of infirmity
eighteen years, and was bowed together, and could in no wise lift
up herself. 13. And he laid his hands on her: and immediately she was
made straight, and glorified God.
Luke 10:19
Behold, I give unto you power to tread on serpents and scorpions, and
over all the power of the enemy: and nothing shall by any means hurt you.
John 9:31
Now we know that God heareth not sinners: but if any man be a worshipper
of God, and doeth his will, him he heareth.
John 10:10
The thief cometh not, but for to steal, and to kill, and to destroy: I am
come that they might have life, and that they might have it more
abundantly.
John 14:12-14
12. Verily, verily, I say unto you, He that believeth on me, the works that
I do shall he do also; and greater works than these shall he do; because
I go unto my Father. 13. And whatsoever ye shall ask in my name, that
will I do, that the Father may be glorified in the Son. 14. If ye shall ask
any thing in my name, I will do it.
John 15:4-5
4. Abide in me, and I in you. As the branch cannot bear fruit of itself,
except it abide in the vine; no more can ye, except ye abide in me. 5. I am
the vine, ye are the branches: He that abideth in me, and I in him, the
same bringeth forth much fruit: for without me ye can do nothing.
Acts 3:16
And his name through faith in his name hath made this man strong, whom
ye see and know: yea, the faith which is by him hath given him this
perfect soundness in the presence of you all.
Acts 4:29-30
29. And now, Lord, behold their threatenings: and grant unto thy servants,
that with all boldness they may speak thy word, 30. By stretching forth
thine hand to heal; and that signs and wonders may be done by the name
of thy holy child Jesus.
Acts 5:15-16
15. Insomuch that they brought forth the sick into the streets, and laid
them on beds and couches, that at the least the shadow of Peter passing
by might overshadow some of them. 16. There came also a multitude out
of the cities round about unto Jerusalem, bringing sick folks, and them
which were vexed with unclean spirits: and they were healed every one.
Acts 10:38
How God anointed Jesus of Nazareth with the Holy Ghost and with power:
who went about doing good, and healing all that were oppressed of the
devil; for God was with him.
Romans 8:2
For the law of the Spirit of life in Christ Jesus hath made me free from the
law of sin and death.
Romans 8:10
And if Christ be in you, the body is dead because of sin; but the Spirit is
life because of righteousness.
Romans 8:11
But if the Spirit of him that raised up Jesus from the dead dwell in you, he
that raised up Christ from the dead shall also quicken your mortal bodies
by his Spirit that dwelleth in you.
1 Corinthians 6:13, 15, 19, 20
13. Meats for the belly, and the belly for meats: but God shall destroy
both it and them. Now the body is not for fornication, but for the Lord;
and the Lord for the body. 15. Know ye not that your bodies are the members
of Christ? shall I then take the members of Christ, and make them the members
of an harlot? God forbid. 19. What? know ye not that your body is the temple
of the Holy Ghost which is in you, which ye have of God, and ye are not your
own? 20. For ye are bought with a price: therefore glorify God in your body,
and in your spirit, which are God's.
2 Corinthians 1:20
For all the promises of God in him are yea, and in him Amen, unto the
glory of God by us.
2 Corinthians 10:4-5
4. (For the weapons of our warfare are not carnal, but mighty through God
to the pulling down of strong holds;) 5. Casting down imaginations, and
every high thing that exalteth itself against the knowledge of God, and
bringing into captivity every thought to the obedience of Christ;
Galatians 2:20
I am crucified with Christ: nevertheless I live; yet not I, but Christ liveth in
me: and the life which I now live in the flesh I live by the faith of the Son
of God, who loved me, and gave himself for me.
Galatians 3:13-14
13. Christ hath redeemed us from the curse of the law, being made a curse
for us: for it is written, Cursed is every one that hangeth on a tree: 14. That
the blessing of Abraham might come on the Gentiles through Jesus Christ;
that we might receive the promise of the Spirit through faith.
Ephesians 4:27
Neither give place to the devil.
Ephesians 6:10-17
10. Finally, my brethren, be strong in the Lord, and in the power of his
might. 11. Put on the whole armour of God, that ye may be able to stand
against the wiles of the devil. 12. For we wrestle not against flesh and
blood, but against principalities, against powers, against the rulers of the
darkness of this world, against spiritual wickedness in high places.
13. Wherefore take unto you the whole armour of God, that ye may be
able to withstand in the evil day, and having done all, to stand. 14. Stand
therefore, having your loins girt about with truth, and having on the
breastplate of righteousness; 15. And your feet shod with the preparation
of the gospel of peace; 16. Above all, taking the shield of faith, wherewith
ye shall be able to quench all the fiery darts of the wicked. 17. And take
the helmet of salvation, and the sword of the Spirit, which is the
word of God:
Philippians 2:13
For it is God which worketh in you both to will and to do of his
good pleasure.
Colossians 1:12-14
12. Giving thanks unto the Father, which hath made us meet to be partakers
of the inheritance of the saints in light: 13. Who hath delivered us from the
power of darkness, and hath translated us into the kingdom of his dear
Son: 14. In whom we have redemption through his blood, even the
forgiveness of sins:
2 Timothy 1:7
For God hath not given us the spirit of fear; but of power, and of love, and
of a sound mind.
Hebrews 10:23
Let us hold fast the profession of our faith without wavering;
(for he is faithful that promised;)
Hebrews 10:35-36
35. Cast not away therefore your confidence, which hath great
recompence of reward. 36. For ye have need of patience, that, after ye
have done the will of God, ye might receive the promise.
Hebrews 13:8
Jesus Christ the same yesterday, and to day, and for ever.
James 4:7
Submit yourselves therefore to God. Resist the devil, and he will flee
from you.
James 5:14-15
14. Is any sick among you? let him call for the elders of the church; and
let them pray over him, anointing him with oil in the name of the Lord:
15. And the prayer of faith shall save the sick, and the Lord shall raise
him up; and if he have committed sins, they shall be forgiven him.
1 Peter 2:24
Who his own self bare our sins in his own body on the tree, that we,
being dead to sins, should live unto righteousness: by whose stripes
ye were healed.
1 Peter 5:8-9
8. Be sober, be vigilant; because your adversary the devil, as a roaring
lion, walketh about, seeking whom he may devour: 9. Whom resist
stedfast in the faith, knowing that the same afflictions are accomplished
in your brethren that are in the world.
1 John 3:8
He that committeth sin is of the devil; for the devil sinneth from the
beginning. For this purpose the Son of God was manifested, that he
might destroy the works of the devil.
1 John 3:21-22
21. Beloved, if our heart condemn us not, then have we confidence
toward God. 22. And whatsoever we ask, we receive of him, because
we keep his commandments, and do those things that are pleasing
in his sight.
1 John 5:14-15
14. And this is the confidence that we have in him, that, if we ask any
thing according to his will, he heareth us: 15. And if we know that he
hear us, whatsoever we ask, we know that we have the petitions that
we desired of him.
3 John 2
Beloved, I wish above all things that thou mayest prosper and be in
health, even as thy soul prospereth.
Revelation 12:11
And they overcame him by the blood of the Lamb, and by the word
of their testimony; and they loved not their lives unto the death.
Psalm 118:17
I shall not die, but live, and declare the works of the LORD.