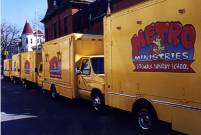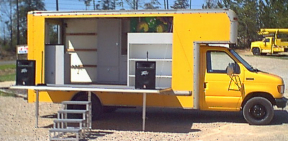 We are believing God for our first Sidewalk Discipleship truck!
Metro Ministries founder Bill Wilson's first truck was pretty crude compared to the ones he operates today, but only because it had never been made before. But it worked. Sidewalk Sunday School was born.
Their first Sidewalk Sunday School site was in Brooklyn, New York. That first week they put out tarps on the concrete for the kids to sit on and a hundred kids came. Later that week they visited them, then went back and did it again next week. Sidewalk Sunday School had become a reality.
That was in 1988. Today, ten Sidewalk Sunday School trucks combined with over fifty buses are working together to build the largest Sunday School in the United States.
As they added trucks and staff, they also add sites. As they added sites, they gave more people the opportunity to know about Jesus Christ. Here in Greenwood, South Carolina the need is always in front of us. The only thing that hinders us is the lack of funds and the lack of staff. As I said before, how dare we limit who can hear the gospel and who can?
As we spread out through the region of Greenwood, we realized the full impact of God's wisdom in all this. For instance, the peak hours for incidents of juvenile crime in this country are in the afternoon right after school. What better time to capture the attention of kids than during those hours? Many of them have nobody at home, so they're out on the streets unsupervised. And even if people are at home, they really don't care what's happening with their kids.
That's why Sidewalk Discipleship is held right after school. It's the most critical time of the day for these kids.
Someone has to be there to give kids an alternative. We want to show these boys and girls that someone does care for each one of them. We want to give the gospel to any who will receive.
Sidewalk Discipleship. We need to stay on the streets and compel them to come. There is no limit to what can be done, but we need your faithful help just as much as the kids need us to be at the same site, the same time, the same day every week.
If you're wondering whether ministering in the Refiner's Fire Sidewalk Discipleship is for you, call and talk to Children's Pastor, & SD Director, at 864-953-0010. Full-time positions will soon be available for the person who isn't afraid to work, desires to reach kids with the gospel and is willing to take the risk of making a difference.
The Sidewalk Discipleship Program is growing. Are you doing Sidewalk Sunday School in your area? Let us know what you're doing.